Asus has Launched it's new Gaming Laptop Asus TUF Dash F15 in India. Asus TUF Dash F15 has came with latest specs which is Intel's Core i7-11370H 11th Generation Processor. Asus TUF Dash F15 have good Graphics Options. Asus TUF Dash F15 has been revealed globally during the virtual conference at CES Consumer Electronics Show 2021 earlier this year. Recently Now Asus has Said that the Asus's Gaming Laptop is set to mark in India.
Asus says that is delivers upto 16.6 hrs of the video playback on a single charging done. Asus TUF Dash F15 also comes with the Nvidia GeForce RTX 3070 GPU Graphics Card. Key Highlight of Asus TUF Dash laptop include Thunderbolt 4 port, ╚ two-way AI Noise Cancellation technology, and also an MIL-STD-810H military-grade build which makes it look great.
Asus TUF Dash F15 Pricing :-
Asus TUF Dash F15 pricing in India will be starting at Rs. 1,39,990 for the Variant Eclipse Grey color option, and while for the other Variant i.e Moonlight White color will be starting at the price tag of Rs. 1,40,990 Usually Both Variant Costs You Same At 1.5 Lakh with Accessories. The Asus TUF Dash laptop will be available for buying by the early of April 2021, You Can Avail Asus TUF Laptop online on Flipkart and Amazon, also offline on Asus Exclusive Stores, ROG Stores i.e of Asus's, and other offline retailers.
Asus TUF Dash F15 Specs :-
The All New Asus TUF Dash F15 has new design & build which makes it thinner & lighter than the standard TUF gaming laptops which has been seen from the ASUS in the past. The Asus TUF laptop is only 19.9 mm thin and weighs only 2kgs, but ASUS says it still meets the MIL-STD-810H military standards.
Asus TUF Dash F15 runs on Operating System as Windows 10 Home and it features with an 15.6-inch of full-HD IPS display with 240Hz & 144Hz display refresh rate options which is disappointing. The Asus Laptop Setups with up-to Nvidia GeForce RTX 3070 GPU clocked at 1390MHz at 80W with ROG Boost.
The Variant 240Hz display option which also comes with 100% of sRGB color gamut & 3 MS of response time. The Asus TUF Dash F15 is loaded with the 11th-generation Intel Core i7-11370H processor, comes with up-to 32GB of DDR4-3200MHz RAM which is good as compare to other gaming laptop specially which comes with Ryzen processor.
Asus TUF Dash F15 has loaded with total 1TB capacity of M.2 2230 PCIe SSD. Asus laptop also have an extra SSD slot that is 2 SSD first one which is 1TB and another for allowing users to expand the storage capacity which every laptop usually provide. There is easy upgradable design which will lets users to be upgrade the default storage by unscrewing the pop-open screen at the bottom but as per the Asus terms the users who unscrew in warranty period will void the warranty T & C.
Asus TUF Dash F15 Connectivity options includes are the Bluetooth v5.2, Wi-Fi 6, also Thunderbolt 4 port, there is three USB-Type A generation 1 ports, an HDMI 2.0 port, also an 3.5mm headphone jack, and RJ45 port. Laptop has standard keyboard with 1.7 milli-meters of travel distance which tells lifeline and amazing Bolt-blue backlight which gives an awesome look to the laptop.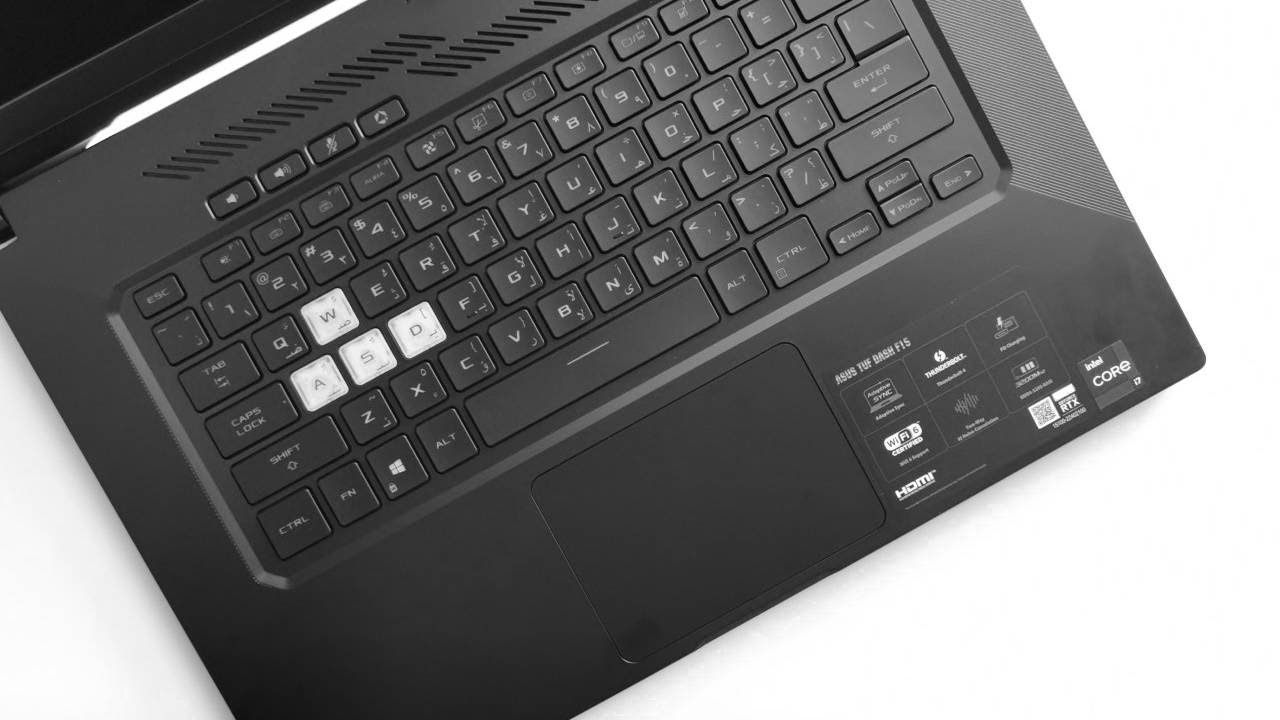 Asus TUF Dash F15 do comes with dual-fan air cooling system which removes heat using four outlets for best cooling. Asus TUF has the 0db Technology which will switches off built-in fans completely when the CPU and GPU that is Graphics Processor, and when the temperatures decrease below 50-degree Celsius. This laptop have three distinct modes which are called as Scenario Profiles.
Laptop includes Turbo mode which will maximise performance and the fan speeds for heavy tasks and also there is Performance mode which optimizes the speed and accuracy. There is also a Silent mode to reduce both power & noise for light loading such as Web surfing and video-streaming specially Chrome Browser 😁.
The Asus Dash F15 features with an easy-upgrade design which puts the Small outline Dual Input Memory Module (SO-DIMM) slot and both M.2 slots.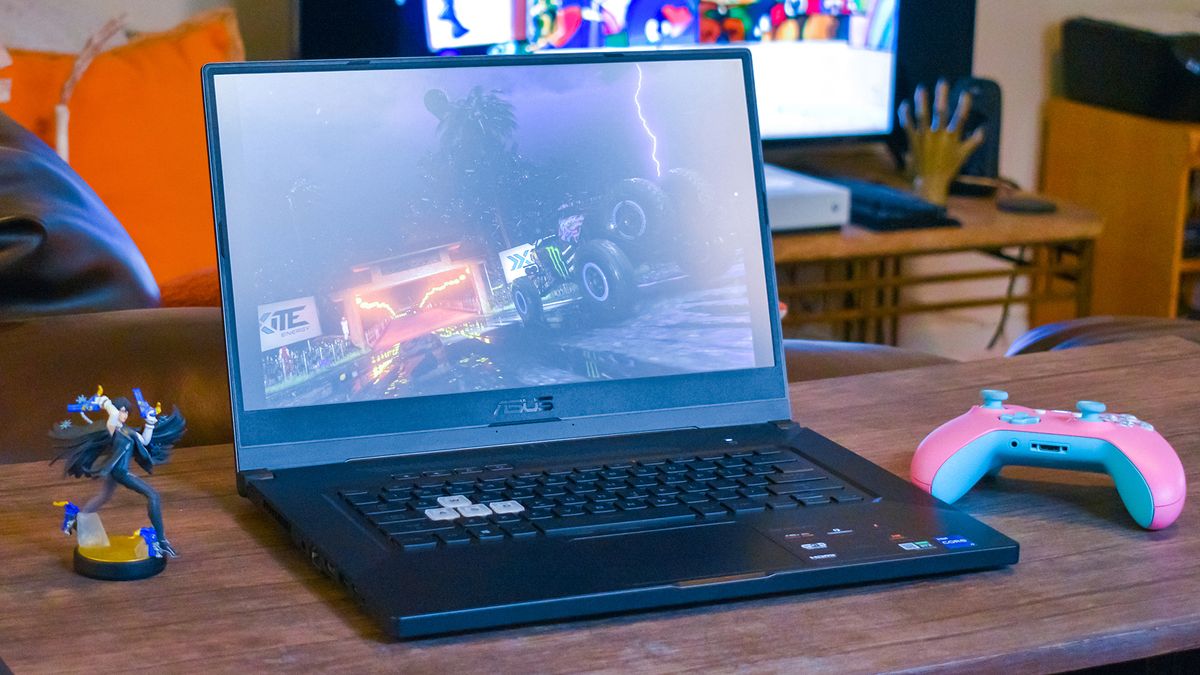 The Asus TUF Dash F15 includes with 76Whr battery power which is claimed to be deliver over 16 hours of video playback which is low. The Asus laptop bundled with 200W power adapter, comes with 100 Watt PD charging support. It is measures 360x252x19.9mm and weighs 2 kilograms.
Asus TUF Dash F15 will be available in two color variants, and it will be go on Sale in early April across all the online platforms like Flipkart and Amazon, across the ASUS's offline channels and all the offline stores. Eclipse Grey variant of the Asus laptop is to be priced at Rs 1,39,990 , Moonlight White variant will be priced at Rs 1,40,990.
Author's Review :-
Asus TUF Dash F15 is decent laptop as per the specs. Asus's TUF laptop is good looking and having good specs and having decent design, look but as per the Pricing of 1.5 Lakh Segment there is excellent laptops from top most brand. Buyer Can Get Excellent Laptop Similar to 1.5 Lakh Segment like Apple's MacBook , Acer's Predator , Hp's Spectre , EliteBook Laptops. As Mentioned Asus TUF Dash Is Efficient but not Excellent.