Vivo Set to Launch Vivo X60 Series in March in India, Vivo India Director Nipun Marya confirmed during a virtual press on Friday. Vivo X60 Series Will have set to come in three range. The X60 series are Vivo X60, Vivo X60 Pro, & Vivo X60 Pro+ which were initially launched in China later.
Vivo India has confirmed in India launch of the Vivo X60 series, Vivo company announced that they will be bringing it as the imaging-focused Vision+ initiative to the Indian market which is focused on Camera Speciality to build visual content ecosystem for mobile photography focused user base. Vivo also said that they will set to bring a new phone with RGBW camera sensor as primary.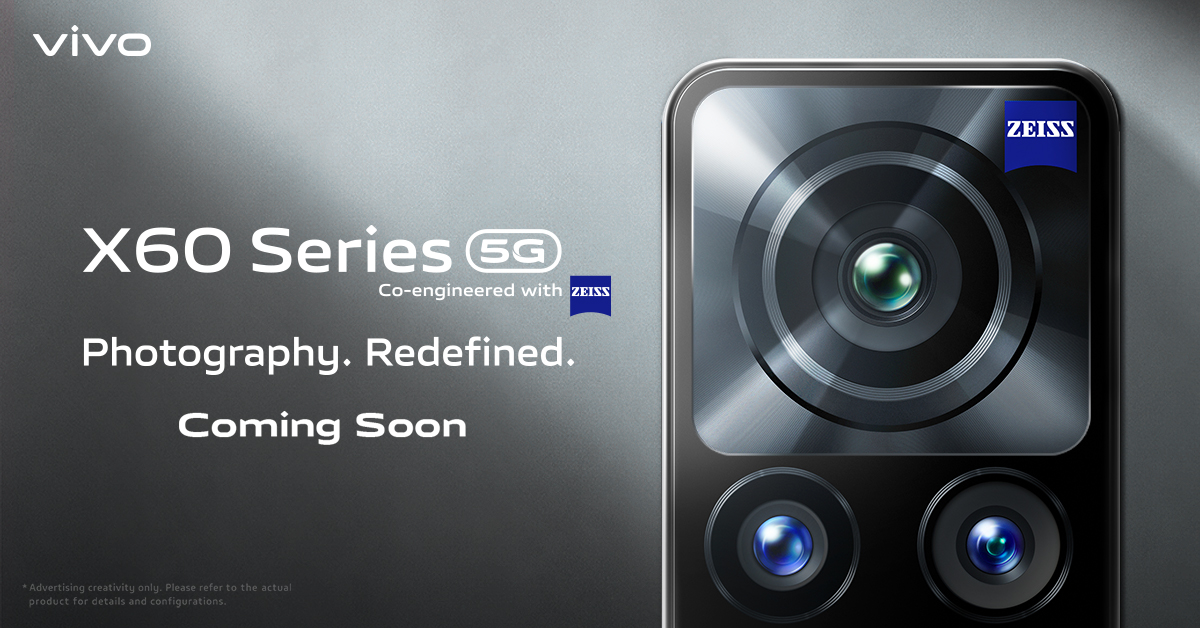 Vivo X60 Series is debuted in China Country with the coming of Vivo X60, Vivo X60 Pro in last of December. Vivo company has now expanded the series by adding Vivo X60 Pro+ in January 2021. Vivo X60 Series is to be an Popularly based for Camera Lovers.
Without specifying which smartphone models are coming to Indian market, Marya said during briefing that Vivo X60 series will be launching in India in March 2021. Corroborated earlier report hinted on March / April launching of the Vivo X60 Series smartphones in the Indian market.
Vivo X60 Series Pricing and Availability :-
Vivo X60 Series , Vivos New Smartphone availability may in the month of March 22nd, as it is hinted by official teaser. And Also As Per Vivo Marketing head Nipul Marya as said before the launch long time ago confirmed that X60 Series may launch in India in the month of March. So as Excepted Vivo X60 Series may launch this month, but still not yet confirmed.
Vivo X60 Series Pricing May Be With Single Variant Smartphone which will be as like Rs. 39,290 is excepted price for the Variant 8 GB RAM / 128 GB internal storage. The Phone is still upcoming. The camera setup on teaser image shows that there is three sensors, with Zeiss branding on main model, which reveals that this will be standard Vivo X60. 
Vivo X60 Series Specs :-
Tough Vivo had been already launched the Vivo X60 series in China Country, The standard Vivo X60 Series variant to be get the triple (3) rear camera setup as primary camera which focused for camera lovers. The Vivo Smartphone will be features with the 48MP primary sensor camera and the dual 13MP units for the ultra-wide and telephoto capturing.
The Other Model of Vivo X60 Series i.e Vivo X60 Pro, there you will get the same as sensors as on the standard variant, but there may be an extra periscope unit for X60 Pro. The Vivo X60 Pro+, will be going to be a photography beast as primary focus is camera. Vivo features that it has main 50 MegaPixel sensor Camera with Zeiss optics which is boost, also an 48MP ultra-wide sensor, and the 32 MegaPixel portrait lens, and last 8MP periscope unit.
It should be noted that the Vivo X60 and X60 Pro will be featured with the Snapdragon 870 SoC in global markets which is good processor, unlike the Exynos chipsets powering with their respective Chinese variants. The Vivo X60 Pro+ model may be continue to the full pack of the Snapdragon 888 chipset outside China Country too.
While the mention of the X60 series suggests that atleast two phones, the vivo X60 and vivo X60 Pro will be come with the three cameras in a triangle formation, the website or landing page of vivo actually showcases only the vanilla phone with the Zeiss logo in the upper right corner not other variant.
There is also two images of the phone in Shimmer Blue or Midnight Black color which looks great, and revealing no periscope lens, hence there be no X60 Pro. There may be, the Pro version will be kept as a surprise or a "one more thing", otherwise it may be sad if Malaysian vivo users may get only the one smartphone of the entire lineup of X60 Series.
The X60 Series Looks Decent and have good color combination while buying. Vivo India has tweeted as this X60 Series will be next level of photography.
Key Specs :-
Display :- 6.56 inches Display.
Camera : 48 MP + 13 MP + 13 MP + 8 MP
Rear camera:- 32 MP Selfie camera.
Battery :- 4200 mAh Battery.